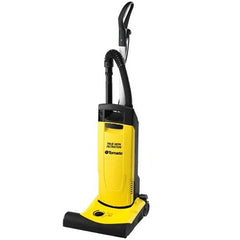 Tornado CV 38 Dual Motor Vacuum | 91415
Tornado® CV 38 Dual Motor HEPA Vacuum
he New Standard of Vacuuming

       Ask for Free no obligation Demo
Call for better pricing !!!!!!!!!!!!!!!
This Vacuum is an Elite Premium product;
Tornado's new CV 38 and CV 48 Dual Motor upright vacuums offer optimum power through increased rpms and brush speeds, tackling the most challenging cleaning environments. This Superior technology that has an Individual vacuum and brush roll motors which increase soil recovery, prolong brush-motor life, and improve carpet appearance and longevity. In addition, these units offer ergonomic operator comfort and whisper-quiet operation and are perfect for noise-sensitive facilities such as hotels, schools and libraries.
Three Stage HEPA Filtration
The true HEPA filtration (99.97% efficiency at 0.3 microns) is designed to contain fine particulate and dust, improving indoor air quality and reducing the risk associated with the redistribution of potentially harmful particles and allergens.

The 3-stage filtration system includes a unique CleanBreeze disposable filter bag, an intake filter, and a true HEPA filter cartridge all as standard. The CleanBreeze disposable filter is an intricate web of randomly spun polymer fibers capturing far more particles and allergens than conventional paper bags. Dust emissions are reduced up to 60% over traditional paper filters.