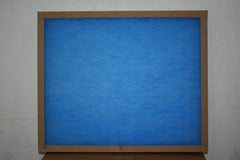 Polyester Air Filters 1" Thick
STOCK / SPECIAL POLYESTER FILTERS
The Stock 1" Polyester Filters are made from high quality polyester media. The media is surrounded by a Monobond Frame. Stock 2" Polyester Filters are available in boxes of 12 and are made from quality polyester material. Smith Special Sized Polyester Filters are available in multiple sizes. When ordering, state exact size. Special filters can not be returned.

MATERIAL: The Polyester throwaway is produced using specially developed polyester fiber, bonded together to form an interlocking pattern of tiny lint and dust traps. Media is designed to minimize surface loading. Polyester media eliminates the possibility of fibers breaking off and getting into the airstream. Smith Polyester Filters can withstand temperatures up to 200 degrees F.