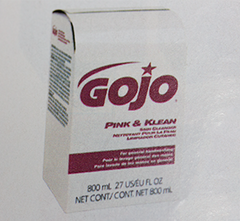 GOJO 9128-12 Pink & Klean Refill
This hand soap from Gojo Industries is a rich, pink lotion soap that is formulated to be gentle enough for frequent use, but strong enough to get hands thoroughly clean. Do not be fooled by the light, pleasant floral scent and low cost. This economical, pearlized hand soap means business and gets the job done without breaking the bank.  
For public restrooms, office buildings, and manufacturing environments. Gentle cleansing with a clean rinse.
Pleasant, light floral fragrance. 800 ml refill
12 per case
Economical, rich, pearlized pink lotion soap formulated for frequent use.
Pleasant, light floral fragrance
For use with GOJO 800 ml Dispenser           CALL OR EMAIL FOR FREE DISPENSER INFO