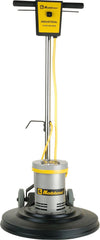 Koblenz scrubbing machine super heavy
 FREE SHIPPING IN CHICAGO AREA !


 Cast Iron scrubbing machine; This machine will last a lifetime if you take care of it
The Koblenz Heavy Duty Industrial Floor Machine features 1.5 HP Motor, 175 RPM Speed, triple planetary All Steel Gears, Heavy rotomolded chassis.  With non marking, sealed, double ball bearing wheels and a cool running, continuous operating heavy duty motor.

Koblenz offers the best modern technology can make. With more features like safety switch and locking mechanism, protection against operator error. 13 gauge chrome steel handle Simple, easy to operate and adjust, no operator fatigue easy to use.

3-Year limited warranty on motor and transmission and 1 year limited warranty on parts & workmanship!