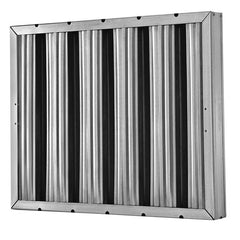 Fire Patrol "A"
(Aluminum)
GREASE FILTER*
CONSTRUCTION: All Aluminum baffle filter with unique roll formed baffles, designed to prevent flame from penetrating through the filter into the duct work.

MATERIAL: The SMITH FIRE PATROL "A" is made from heavy commercial Aluminum on both the baffles and the frame. Even the rivets are Aluminum.
Maximum temperature is 250 degrees F.