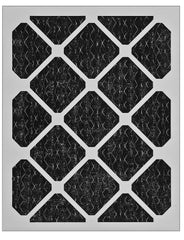 Charcoal Pleated Filters
CHARCOAL PLEATED FILTER
CONSTRUCTION: Charcoal impregnated pleated filters are made with a carbon (coconut shell based) impregnated synthetic media, containing eight grams of carbon per square foot. The pleats increase the surface area of carbon exposed to the air flow. For example, a 24x24x2 Charcoal impregnated pleat contains 14 square feet of effective media face area compared to only 4 square feet for a filter pad.

THE FRAME is a rigid, water resistant beverage board used also in the standard pleated filter. These charcoal impregnated pleats not only act as an odor removal filter, but also as an effective particulate filter.
HIGHER EFFICIENCY, REDUCES ODORS. A HIGH QUALITY HEAVY DUTY PLEATED FILTER