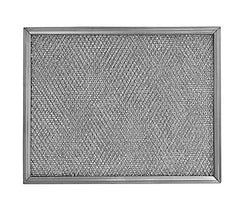 Bonded A Filter (Aluminum)
CONSTRUCTION: Frame shall be formed Aluminum channel, securely connected with heavy rivets. Filtering medias hall be bonded Aluminum "Fits" material that is made of many layers of baffles, bonded together to make a solid pad. Holding capacity tests out at 90.8 g/ft. with an average arrestants of 71.5%. Resistance when clean is .04 w.g. at 350 FPM.

MATERIAL: Filtering element shall be processed from Bonded Aluminum. Frame shall be made from sheet Aluminum 3003-H16 .025 thickness.

Maximum temperature: 225 degrees f.
THE BONDED "A" HAS MANY USES:
To be used in ceiling vent fans, auto air conditioners, bus and truck heaters, central air conditioners, computer environment systems, electronic air cleaners, electronic equipment ventilating "windows", farm cab air conditioners, heating equipment, kitchen air exhaust and recirculating systems, range hood fans, room air conditioners, and wall heaters.